"What a fun and effective way to engage with
and learn about your own chakras!"
― Donna Eden, author of Energy Medicine
and The Energies of Love
With this unique coloring book, you can awaken
and energize your chakras and become…
Healthier and happier
More charismatic and magnetic
And more attractive as a result
In Color Your Chakras, Dr. Susan Shumsky, an award winning, best-selling author of 13 books, including The Power of Chakras, The Power of Auras, Awaken Your Third Eye, Instant Healing, Ascension, and Divine Revelation… presents her gorgeous, original chakra illustrations along with explanations about the chakra system so you can enjoy its immense power.
Each of the 14 chakras is represented in an exquisitely detailed, magnificent illustration on each right page, with another beautifully illustrated, thoughtfully researched description on each left page. Here's an example, below: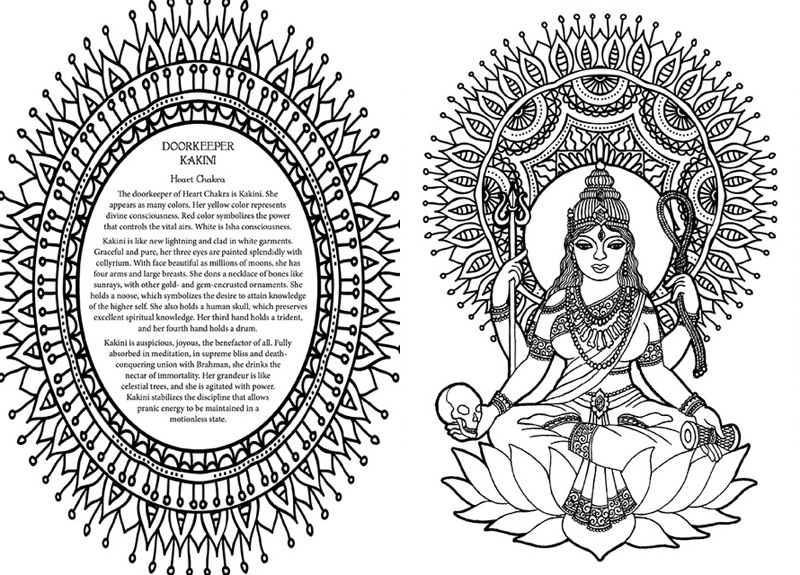 "There's so much information packed into the explanation on the left pages – You can learn everything about your chakras and then bring them to life through the act of coloring."
— Dr. Susan Shumsky
This coloring book is like nothing else you've ever seen,
because it represents authentic chakra images and facts
Dr. Shumsky is a highly respected spiritual teacher and founder of Divine Revelation®—a unique field-proven technology for contacting the divine presence, hearing and testing the inner voice, and receiving clear divine guidance. For 22 years, her mentor was Maharishi Mahesh Yogi—guru of the Beatles and of Deepak Chopra. She served on Maharishi's personal staff for 7 years.
Her mission with this coloring book is to provide real information grounded in ancient wisdom that has stood the test of time—all 14 chakras, their Sanskrit letters, their deities and elements of nature, and much more!
"Other chakra coloring books don't represent the Sanskrit language of India—the ABC's of the chakras. Nor do they explain how chakras distribute life-force energy throughout the body. My intention is to dispel misunderstandings about what chakras are and how they function. I have been immersed in the wisdom of the Far East and have practiced spiritual disciplines for 50 years, so I am delighted to present a true learning experience as you engage in a playful, creative activity of coloring."
— Dr. Susan Shumsky
Order Color Your Chakras Right Now and Receive
These FREE BONUS GIFTS from Susan Shumsky, DD
Mini-Meditation: "Awaken to Spirit"
Lecture: "How to Hear the Voice of God"
Teleseminar: "Healing Psychic Sponge Syndrome"
$50-$100 coupon towards a spiritual tour, seminar-at-sea, or retreat
Special FREE access to our Weekly Prayer Circle
PLUS, you'll receive HUNDREDS OF DOLLARS worth
of ADDITIONAL BONUS GIFTS from other famous authors!
Not only will you learn a tremendous amount from reading this book,
you'll bring healthy energy into your life as you color the pages
"When you color the chakras and read the descriptions, you'll learn about them and how they can enhance your life. I suggest which colors to use on each page based upon descriptions in the ancient scriptures, and upon the planets and days of the week that rule each chakra. But you're also free to use your own imagination. Get creative and use colors that speak to you.
By doing this, you actually open the chakras. Placing your intention on them enhances their flow of energy. It's a powerful thing that will awaken your energy in ways you never imagined."
— Dr. Susan Shumsky
"Open your creativity and learn as you go.
A must-have and a great contribution to the field."
― Anodea Judith, author of Wheels Of Life and
Eastern Body-Western Mind
So much more than just a calming, colorful experience…
this book is a rare, glorious gift from a Master Spiritual Guide
"Dr. Susan Shumsky is one of the most genuine, sincere spiritual teachers that I am privileged to personally know. She is a rare treasure who truly walks her talk, and her profound connection with inner divinity is obvious."
―Dannion Brinkley, author of Saved By the Light